The Hitachi Solution for Powerful Refrigeration Plus Exceptional Energy Saving.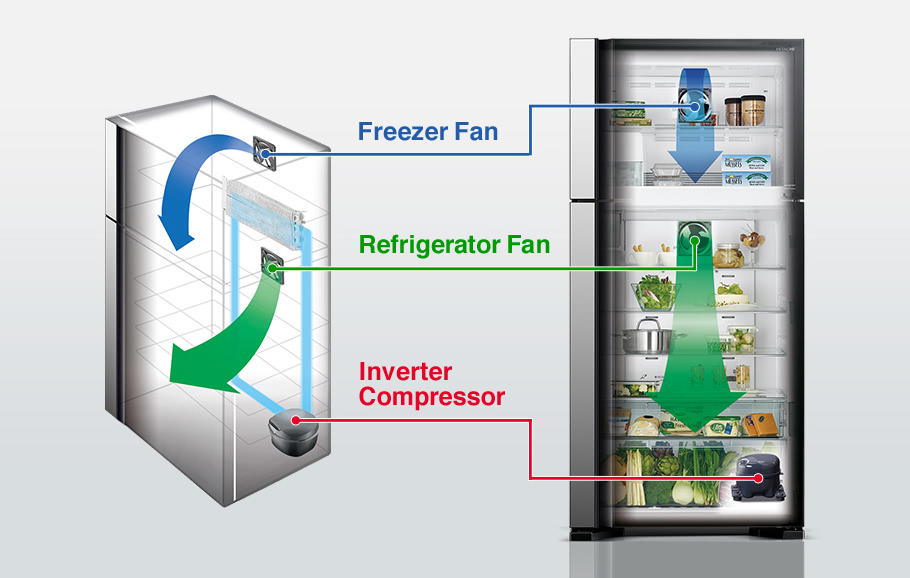 Dual Fan Cooling
Dedicated Fans for Each of the Compartments
It provides optimum cooling in both the freezer and the refrigerator compartments, something a single fan can't do. Improved Dual Fan Cooling ensures energy saving and powerful cooling, supported by the Eco Thermo-Sensor in each compartment detecting any temperature changes at all times.
High Power Inverter Compressor
Capable of providing exceptionally powerful cooling by generating a large volume of chilled air, as well as efficient low power cooling with microcomputer control.
Dual Sensing Control
Hitachi refrigerators have two Eco Thermo-Sensors, one in the freezer compartment and the other in the refrigerator compartment. The sensors detect any temperature changes separately to enable the ideal temperatures to be maintained in each of the compartments at all times.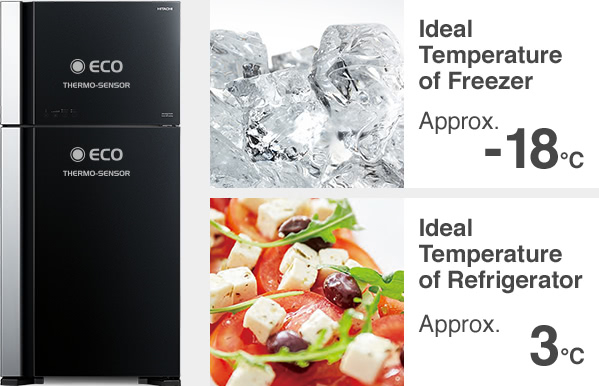 Energy Saving
Controlling how much and to which compartment chilled air is delivered, it assures no wasted energy thus helping it acquire world top class energy saving ratings.
Powerful Cooling
Even if the ambient temperature reaches as high as 

60°C

, every corner inside the refrigerator is still thoroughly cooled.
Cools Even at60°C*

Ambient temperature of

60°C

 and stable interior conditions without opening or closing the door.
Stabilizer Free
Even without a special stabilizer, Hitachi's inverter refrigerator can operate under wide voltage fluctuations.
Cools Under Wide: Voltage Fluctuations 130v-300v*
Long Cool Keeper
The temperature in the freezer compartment is maintained to keep food fresh in the event of a power cut.
Cooling Retention: 12 Hours*

Even During Power Cut
Touch Screen Controller
Flat glass panel controls let you change the settings with a simple touch. And a wipe is all it takes to clean the tempered glass surface.
Adjustable Pocket
You can adjust the height of the pocket in two steps to match the items being stored, and there's enough room to store 2.0L bottles.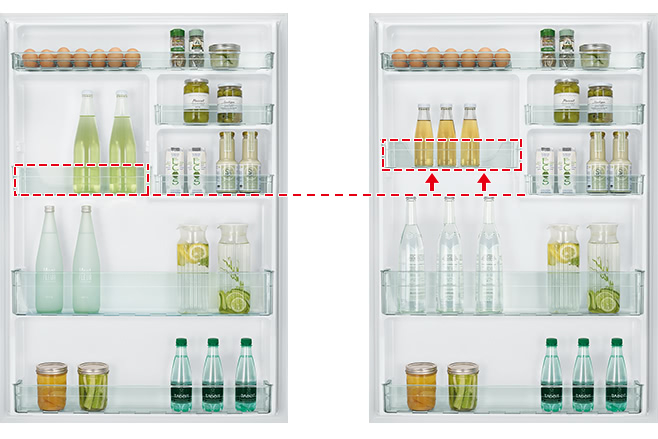 Movable Twist Ice Tray
You can move the ice tray or even remove it for more convenient and efficient use of storage space.

Fresh Select
The Select Lever lets you adjust the inside temperature by switching between the two modes.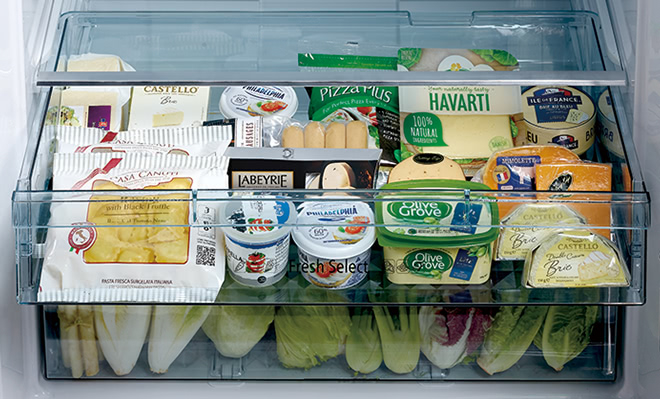 760Ltr
Big Vegetable compartment  Tempered Glass shelves
Touch Screen controller
LED Light
Movable Ice Maker
Dimension – W855 x H1835 x D740 (mm)
Made In Thailand