High Power Inverter Compressor
Capable of providing exceptionally powerful cooling by generating a large volume of chilled air, as well as efficient low power cooling with microcomputer control.
Dual Sensing Control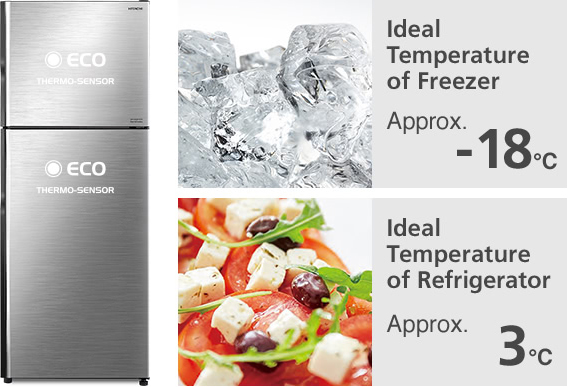 Hitachi Refrigerators have two Eco Thermo Sensors, which detect any temperature changes separately to enable the ideal temperatures to be maintained in each of the compartments at all times.
If a refrigerator has only one sensor, which is usually in the refrigerator compartment, temperature changes in the freezer due to various factors can't be detected and stored items aren't properly frozen.
Fresh Select
The Select Lever lets you adjust the inside temperature by switching between the two modes.
Movable Twist Ice Tray
You can move the ice tray or even remove it for more convenient and efficient use of storage space.
Tempered Glass Shelves
Highly durable, scratch-proof, and heat-resistant shelves hold up to 100 kg* each for all your storage needs.

Model : RH380PK7KBSL
Color : Silver
Gross Capacity : 380 Liter
Door : 2
Series : Inverter
Dual Sensing Control : Yes
Control Panel : Manual
Fast Freeze : Yes
Air Flow : Front
No Frost : Yes
Dimension : W600xH1672xD663mm